In today's world, life is more hectic than ever. That's why it is important to be able to relax in the comfort of your own home. Whether you enjoy watching a funny movie, taking a nap, or reading a good book, everyone can agree one of the best ways to relieve stress and relax is a massage. So instead of wasting your money going to a spa multiple times a year, spend a fraction of that on a stylish, comfortable, and functional massage chair that you can use over and over again. In order to find the best massage chair, there are many things that need to be keep in mind and our massage chair reviews will describe all these factors in detail. Massage Chairs come in a range of features, materials, sizes, and prices. Our buyer's guide should help you as you decide which electric massage chair is right for your home.
Things to Consider Before Purchasing Massage Chair
It's important to check out all of your options when considering the purchase of a massage chair. Much will depend on you: your personal preference, your size and weight, your physical condition, and even the decor in your home.
In addition, you may have different requirements according to the way in which you wish to use your massage chair. If you are purchasing it only for occasional use — say, after you've overdone it in the garden or while playing sports — you may be very happy with a base model chair. If, however, you suffer from a chronic pain condition or depend on your massage chair to help you manage chronic stress and anxiety, you may need a more heavy-duty or premium product.
Here are a number of things to keep in mind as you consider your upcoming massage chair purchase.
Material
Depending on your home's decor and your own personal preference, you may be interested in either a leather or cloth massage chair. While leather is often a desirable design choice, if your massage chair includes a heated element you may find that the leather becomes uncomfortably hot or that you tend to become sweaty while using the massage chair. It may be that the softness of cloth upholstery is preferable for maximum comfort while using your massage chair. In addition, cloth upholstery may more effectively conduct heat and may move more freely.
Style
There are a variety of styles available from traditional recliners to ultra-modern and compact looks. Many massage chairs are very big and clearly designed more for utility than for looks, with large and bulky leg and footrests, enclosed armrests, and over-sized head and neck rests. Other chairs are built to look sleeker, incorporating fewer therapeutic benefits in exchange for a more streamlined appearance.
The style of chair you choose may be influenced by where you plan to place the massage chair in your home as well as how often you plan to use it. If, for example, you are buying the chair only as an occasional treat, you may want to put it in a bonus room or even in a tucked-away and little used guest bedroom. If you suffer from a chronic condition for which you plan to use the massage chair regularly, you may choose a smaller and more streamlined look in order to keep it in the living room or study.
Warranty
Because many of the massage chairs on the market are fairly expensive and have a large number of integrated features, it is important to pay attention to the warranty on the chair you choose. Manufacturers offer a variety of warranty terms, from one year warranties to five years or more. Many of these are limited warranties, so it is important to check the terms and ensure that the warranty you're getting is thorough enough to help protect your investment for the type of use you're planning on.
Extra Features
Because there is such a wide variety of massage chairs, manufacturers are always developing extraordinary new features to help differentiate their product from the rest of the market. Depending on your budget and your individual needs, you may enjoy any of the following extra features.
Pressure Point Detection
Some chairs are able to scan your back, and then cross-reference its precise contours with specific acupressure points. This allows a truly custom experience, with more accurate placement of pressure and greater effectiveness.
Zero Gravity
As the legs are elevated above the heart, the body is placed in a position of virtual weightlessness. This allows greater relaxation and spinal alignment, increasing systemic balance and restoration. Zero Gravity features can also help with pain relief, when the chair is placed in the zero gravity formation, the pressure is removed from your back and knees and can mimic the sense of weightlessness in order to help relieve pain.
Customization Options
When making the decision to buy a massage chair it is important to know exactly how customizable the programs and the settings are. Some chairs are very customizable and also offer pre-set massage types, some offer customize and control only, while others only have pre set massage programs. If you are looking for a chair with a high degree of customization, pay attention to the ability to the choose intensity and speed.
If your pain is often hard to reach and you get frustrated trying to get the settings and intensity just right over and over again, make sure you look for a chair with memory/recall functions in order to get a massage you enjoy right away.
Built-in Audio
Many chairs include built-in speakers allowing you to integrate your preferred audio — whether relaxing music, white noise, or nature sounds — to enhance your massage and relaxation experience.
Bluetooth
Bluetooth integration allows you to stream audio from your phone or other device to the massage chair's built-in speaker system so you can hear your favorite movie or music over the whirs of the rollers and motors. In addition, Bluetooth also offers the option to control and customize your chair's functions from your phone or tablet which can be a great alternative if the control panel / remote is just out of reach.
The Best Massage Chair Reviews
Faux Leather Massage Recliner Chair w/Ottoman
If you are looking for a relaxing massage chair in under $200 with all the interesting features that a good massage chair has to offer, this is it! The recliner and the ottoman that comes with it have a strong metal frame covered with faux leather for an unmatched comfort.
You can adjust your massage using its 5 pre-set massage options, each accompanied by 9 levels of intensity and 2 additional options for kneading your calves, thighs and back. A wireless controller lets you easily control the adjustments and store it in the pouch on the side of your chair when not in use. The controller even lets you target areas which require the most attention such as your back, thighs and legs and even heat these areas if you want for an even more effective massage.
The convenient recliner option adds even more comfort to the massage for a faster healing and relief from stress if any. After a hectic work day, this magical chair could be something to look forward to on the way back home.
Deluxe Leisure Recliner Chair with 8 Motor Massage
In a little over $250 you get this classy, brown recliner massage chair which will make a perfect addition to your room or office. Using its 8 massage motors it can target all the vital pressure areas including your calves, thighs and back.
You can personalize your massage by choosing the areas you want massaged or select one from the chair's 9 pre-programmed modes. With each of the modes you can select between 5 levels of intensity depending on exactly what you need. To make your massage even more comfortable and effective, the chair additionally gives a relaxing heating to your lower back during the massage. All these adjustments including swivel and reclining options can be controlled with the help of a hand held remote which is easily accessible in the side pouch of your chair.
The large sitting space and back rest can support over 300 pounds of weight and has a wooden base to add even more stability to the structure. With the countless features and ultimate comfort that the chair has to offer the only problem we can foresee is that the user will want to sit in it forever!
Massage Recliner Chair Leather Ergonomic Heated Lounge Sofa
This is another great option for those looking for an affordable massage chair with all the popular features and comfort that any great massage chair offers. The strong wooden frame of the chair is covered with the finest quality leather which is capable of supporting up to 400 lbs and comfortable enough to let the user sit in it for hours in a go. For compact storage and easy trans-portability, the chair comes in two pieces which can easily be put together by attaching the back to the base and connecting 3 cables without requiring any professional assistance.
Its effective 8 point massage focuses on the main pressure areas to relieve pressure on your neck and spine and help alleviate pain from your joints and shoulders. Using its remote control which stores in a side pocket, you can opt between 5 massage modes for the massage of your entire body or one that focuses on certain pressure points like your thighs, back and lumbar. You can also opt for heat treatment to go with your massage. Along with the side pockets for storing the remote control, you will also find cup holders to enjoy a nice drink with your massage and make the experience as luxurious as possible.
Curved Long Rail Shiatsu Massage Chair
You no longer have to go all the way to a massage therapist for some pain relief because this affordable massage chair works on the surface of your skin to provide the same benefits that a massage therapist can grant you. With the comfortable finish and the relaxing massage that this chair delivers, you will find noticeable relief from your pain, fatigue and stress.
Its unique SL shape is particularly designed to support your body snugly for a relaxing experience. The Shiatsu Massage Chair is constructed for an entire body massage using one of the three famous massage methods: knocking, kneading and combination of the two depending on what you choose. You will find the controller attached to the arm rest with the help of which you may conveniently switch between massage techniques or make adjustments to the intensity  of the massage. The arm rest also includes a phone slot so that you can stay in touch with your phone calls and messages while enjoying the massage. You may also make use of the chair's 3D surround sound with Bluetooth connection to enjoy your favorite music from your phone or laptop while having your massage.
iJoy Active 2.0 Perfect Fit Massage Chair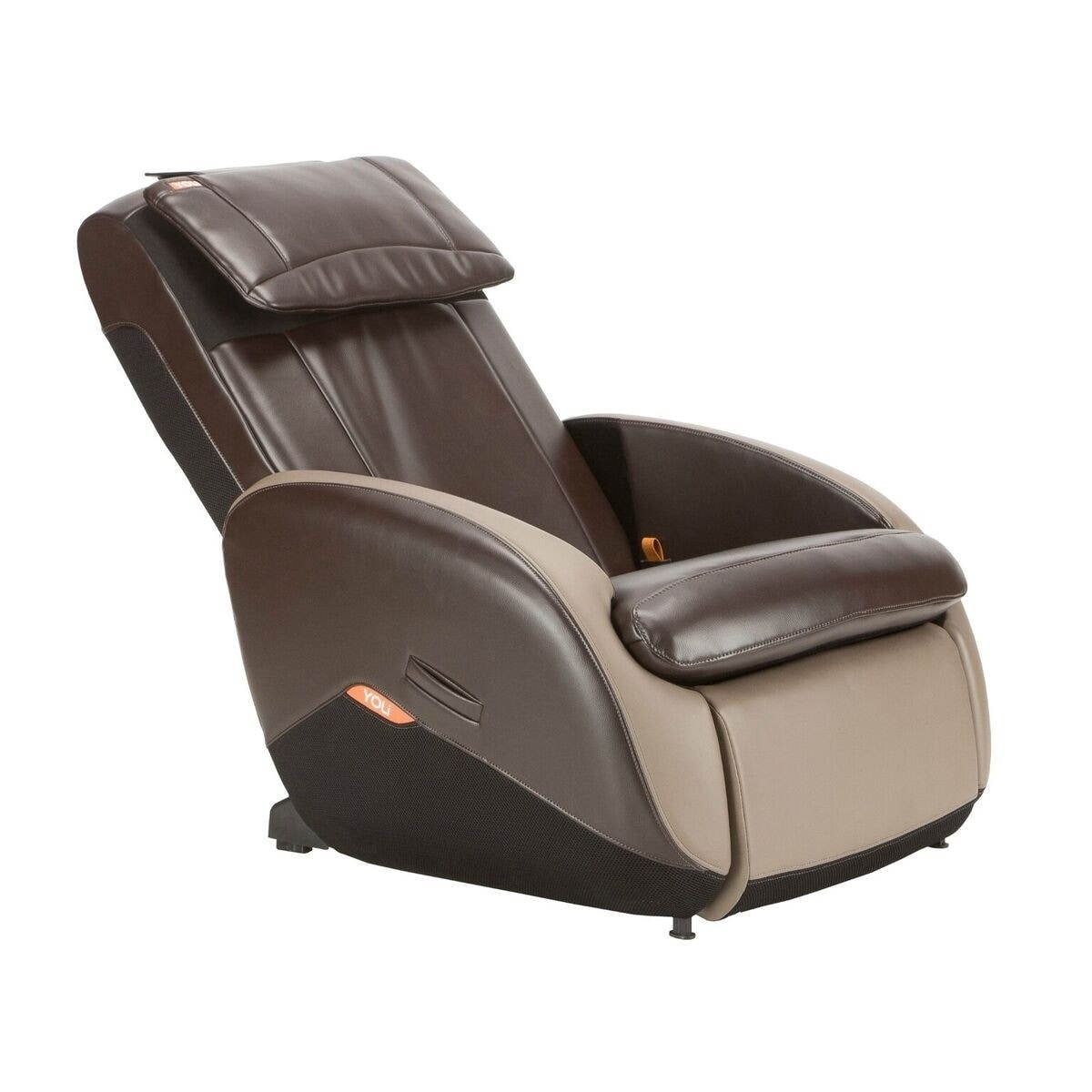 The 'Perfect Fit' massage chair is a great budget option that combines some of the most attractive features with a compact design to fit in small rooms and offices. The brown color goes with the décor of any room making it look even more classy and modern.
Among the features of this massage chair that will attract you the most is its patent FlexGlide technology which applies a constant pressure on your back with the rollers moving vertically near the spine. Besides the glide function, you can also choose the stretch or orbit function to target specific areas on your back. It lets your muscles relax and provides with the most fulfilling massage ever. A handle on the side of the chair lets you enter a reclining position of up to 180 degrees to alleviate the stress on your spine and enhance your heart beat.
The recliner features 3 pre-set options to select from including THINK which massages your entire back, RECHARGE which focuses on your lower back and PERFORM which massages your shoulders and neck in order to take away the stress of a long day. Weighing only 45 lbs, it can easily be moved around the house or office depending on where you want your massage.
Full Body Shiatsu Massage Chair Recliner Bed EC-69
If you want effective relief from constant muscle pain and fatigue, this chair is an excellent option for you since it uses the same techniques as a professional therapist to loosen your muscles and ease your pain. The complete body massage given by the chair extends to your legs using compression and percussion to relax the muscles in your legs and improve their functionality. Besides targeting your legs, the chair also uses the most common massage techniques including kneading, flapping, rolling and tapping on your back to loosen your muscles and relieve pains.
Using its remote controller you can pick your choice of massage technique, intensity and whether you want your entire body massaged or only focus on specific areas. Furthermore, there are vibrators placed at strategic points along the length of the chair to add even more benefits to your massage using vibration therapy. The vibration effect helps improve blood flow and the removal of toxins from the body. You can even convert the chair to a reclining bed with the press of a single button for an even more fulfilling massage. This versatile chair is a great bargain for all the medical and physiological profits that it brings.
Electric Full Body Shiatsu Massage Chair Foot Roller Zero Gravity
With the range of useful features that the chair offers including the Zero Gravity feature that top-of-the-line massage chairs boast, it is fairly priced under $600. All the way from your spine up to your feet, the chair massages your entire body to take away all the stress of a hard day instantly.
Using its 8 massage points placed at strategic locations within the seat, it massages your entire body for a relaxing experience. Besides the 3 pre-set massage programs that the massage chair offers another attractive feature is the set of 35 air bags placed all over the chair to give an even more soothing and gentle massage. To accommodate for tall users, the chair has extended footrests so that everyone can experience the same benefits whether tall or short.
Using the remote controller inside the side pocket, you can select the massage style, position and other things while the VFD display screen lets you know all the information regarding the massage option selected, time remaining, control options and other things. Last but not the least, the feature which makes it stand out is the Zero-Gravity feature which lets you take a position to relieve all the stress from your spine and makes your massage even more relaxing.
Electric Full Body Shiatsu Brown Massage Chair
At a good price, you get this basic massage chair which offers sufficient features to attract any casual user. The chair lets you take a comfortable reclined position by making adjustments to the backrest and leg rest at a suitable angle. Rollers are extended throughout the entire chair including the area behind the headrest to target the 'Tsubo points' around your neck area to relieve stress. Using its body scan technology it targets all the key points on your body that will focused during the massage. The full body massage also takes into account the relaxation of your feet using compression and percussion techniques to improve flexibility and mobility of your legs. Apart from these techniques used on the legs, the chair also uses Shiatsu, kneading and tapping to relax the entire body. You can also adjust the intensity of your massage to 3 different levels using the control system positioned conveniently on the arm rest. Around 30 air bags are incorporated in the design and the massaging rollers are heated slightly for an even more relaxing massage. Overall, this is an affordable option if you want all the major benefits of a traditional massage in the comfort of your home.
iJoy-2580 Premium Robotic Massage Chair
Simple and compact in design, it fits easily with the size and décor of most rooms. The chair offers a bundle of attractive features similar to a high-end massage chair. These features include 3 pre-set massage options using a combination of massage techniques. You can choose among 'Back Refresh' to have your entire back massaged, 'Neck and Shoulder Relief' to relieve the pain in your neck and shoulders and 'Lower Back Release' to have your lower back massaged. Using its convenient remote control you can select between 4 massage techniques, specify massage zones, adjust the backrest to a reclined position of up to 180 degrees and/or select one of the preset massage options.
Additionally you will also like the cup holder attached to one of the armrests to enjoy a drink while having your massage and the built-in power outlet to plug in your laptop or phone for charging without leaving the chair. A removable massage softening pad is also attached to the backrest to control the intensity of the massage. Overall, it makes a good buy for massage enthusiasts with an average height who are looking for all the major features and durability.
Health Premium Massage Chair w/body scan
If you want one of the high end models for massaging your entire body, this is a great choice. What's unique about this chair is that it includes massage hands to make the massage experience as close as possible to one you get from the hands of an actual massage therapist. You can choose between any of the 6 massaging techniques that the chair makes use of including kneading, rolling, Shiatsu, flapping, knocking, flapping and kneading. Besides the usual massage techniques, you can also pick the vibration mode to make the massage even more effective. You can even give your massage a boost with an effective heat treatment using the Jade Heat Massager included in the chair with adjustable temperatures in the range of 40ᵒC to 70ᵒC.
You can make adjustments to the backrest, foot rest and even the calf rest to any suitable reclined position you like of up to 180ᵒ. The armrest of the chair also moves with the chair when it takes a reclined position so that your arms are also massaged no matter what position the chair assumes. With this comfortable Zero-Gravity massage chair you do not need to be concerned about malfunctions since the product is backed by a 10 year long warranty.
RELAXONCHAIR Full Body Zero Gravity Shiatsu Massage Chair
This is a fairly priced massage chair with which you can except all the basic massaging benefits without going to a spa. Many users suffering from chronic pains found it effective because of the various innovative features which are a part of this massage chair including the L-track massage system in which the rollers provide an entire body massage all the way from your back to your thighs. Besides this, the newest Zero-Gravity technology is also utilized in the construction to lift your legs all the way up to your heart to relieve pressure from your spine, improve heart beat and much more.
The built-in body scanner inside the chair pin-points all the major areas which will be focused during the massage while the air bag technology with strategically placed air bags throughout the chair allow for a more comfortable and soothing massage. Using a remote controller, you can easily switch between the chair's 4 effective preset massage options or choose among one of the 5 basic massage techniques including kneading, rolling, tapping, kneading and tapping and Shiatsu. You can additionally control the massage speed and air bag intensity. With all its luring features, this is an excellent pick for anyone who is looking for some instant pain relief or simply for enjoying a relaxing massage.
Osaki OS4000 Executive Zero Gravity Massage Chair
This attractive chair comes equipped with all the latest features that you would look for in a high end massage chair and fits well in homes as well as any commercial setup. Among the countless features which make it stand out is the computerized body scanning system which adjusts the massage according to the body type of the user to create a customized massage which suits the user perfectly. What's also worth mentioning is the S-track design contoured perfectly to the shape of a person's back for a relaxing and effective massage.
The chair is also equipped with the latest Zero Gravity Technology to relieve spinal pressure and provide ultimate comfort. Additional features which are bound to interest any enthusiast are the heat therapy system for your lower back, a convenient control system to control the type, speed, intensity and time of the massage with a secondary wireless controller to adjust all the key features when you are in a reclined position.
The calf rest and the leg rest are automatically adjusted by the chair according to the length of the person's leg. Everyone who has used the chair seems to be happy with it and would recommend it to anyone who is interested in an excellent massage without the services of a masseuse.
Luraco iRobotics 7 Medical Massage Chair
Made in USA after thorough research, this robotic massage chair is packed with beneficial features and is among the few chairs which are approved by FDA and UL for medical use. Its S-Track design follows the contour of a person's spine while the highly advanced 3D body scanning technology scans your back before the massage to shifts the positions of the rollers for a personalized massage. What's different from other massage chairs is that it also lets the user shift the position of the rollers and the area of massage manually using the remote control. Using the touch screen remote you can manage all the different options including any of the 6 types of massages offered, intensity, region of the body that you want massaged or one of the 9 pre-set massage options. You can also choose to have a full body air cell massage or a region-specific air massage with the help of strategically placed 80 air cells throughout the chair. Heating elements placed throughout the massage chair can give you an excellent heat therapy in conjunction with one of the massage therapies for even more effective results. This medical massage chair is an excellent investment you can make for your well being if you are suffering from pain or stress.
Inada Sogno Dreamwave Massage Chair
This masterpiece is currently top-of-the-line among all the premium quality massage chairs available in the market and is recommended for anyone who wants the best experience and does not mind the price. Among the cutting edge features that this massage chair brings are the S-Track design which guides the rollers along the shape of your spine and the latest scanning technology which scans your body perfectly for a customized massage. Besides the automatic scan, you can also change the position of the rollers and the massaging area manually. The chair also makes use of the Zero-Gravity technology inspired by NASA to enhance your massage and relieve spinal pressure. What makes it so popular is the endless range of options it offers with a variety of manual modes including tapping, kneading, human hands, vibration and much more. Among the preset options are 8 setting for healthcare programs and 4 options for well being programs. There is even a unique youth program with gentler massage sessions to allow young users to enjoy the chair as well. The chair also includes a dedicated unit for shoulder and arm massage using airbags to knead your muscles to ease the pain in these particular areas.
Health Benefits of Massage Chairs
Of course, you are probably familiar with the benefits of massage if you have a bad back or a stiff neck, but you will find that your massage chair may improve your overall health in ways you had not expected. Here are just a few of the many benefits of regular massage therapy.
Anxiety and Stress
If you find yourself struggling with either a chronic anxiety condition or a temporary increase in your stress level, you'll find that regular sessions in your massage chair will help to relax and relieve your anxiety, allowing you to experience better concentration and improving your state of mind overall. Stress can also cause an increase of cortisol in your bloodstream causing high or low blood pressure, so regular massages in your massage chair can help lower your cortisol to gain back a normal blood pressure. In addition, stress and anxiety reduction is implicated in improved treatment of a variety of other illnesses, including asthma, arthritis, and diabetes.
Insomnia
Whether your insomnia is due to a short term stressor or is a chronic condition, you may find that spending some time in your massage chair — either just before bed or during times of interrupted sleep — may offer relief and help you to go to sleep more quickly and sleep more soundly. Massages are an easy, healthy and drug free option that has helped many people beat their insomnia. The relief from anxiety, muscle tension, and the increase of serotonin can be factors in the increase of sleep and relief in Insomnia patients.
Headaches
Headaches can have a variety of causes, including stress, tension, neck strain, eye strain, sinus blockages, and many other aggravating factors. A relaxing session in your massage chair with your eyes closed and an emphasis on pressure points throughout the head, neck, and shoulders may be just the thing to relieve your headache pain without resorting to pain medications that can cause stomach upset and even rebound headaches when used frequently.
Studies have shown that massage chairs can decrease cortisol levels and increase serotonin by 28%. Because serotonin is one of the body's anti pain mechanisms, your headaches and migraines can be relieved just by the increased serotonin levels from one massage.
Circulation
Massage chairs can help improve circulation which can lead to faster recoveries from injuries. Constricted and tense muscles can constrict blood flow which cuts off organs from the necessary oxygen and nutrients they need to work properly. Without proper blood flow, injuries, internal and external, could take much longer to heal. Massage chairs help you avoid the dangers of bad circulation by relaxing the muscles and tissue.
Alignment
For many of us, sitting hunched over a computer, tablet, or smartphone is the way we live the majority of our day. Add to that commuting time slumped down in a car and the time spent lounging on a sofa in front of the television and the neck and spine can become inflamed and misaligned. Through stretching the neck, shoulders, and upper and lower back in your massage chair you can relieve the compression and poor alignment that may be causing pain and discomfort.
Immune System
Studies have shown that a 45-minute massage can increase the number of lymphocytes in the body. What are lymphocytes? They are white blood cells that help defend the body against disease. Their responsibility is supporting the body's immune system. According to experts just one massage in an electric massage chair can produce a significant change to the body's immune system.
Digestion
You may be surprised to find that improved digestion is a benefit of massage therapy. In fact, this was discovered when studying the effects of massage on infants. Conditions such as acid reflux, Crohn's Disease, and Irritable Bowel Syndrome (IBS) have all been identified as benefiting from the systemic improvements provided by massage.
In addition, the movement of the intestines caused by a massage improves the flow of food and helps prevent build ups of old food which could cause infections. The parasympathetic nervous system can also be activated by massages and help stimulate digestion.
Diabetes
Because of the importance of proper circulation and stress management to the treatment of diabetes, massage therapy offers a number of benefits. Studies have shown that massage therapy can stimulate the lymph system, lower blood sugar levels, and even improve insulin uptake and absorption.
Massage Types
Many chairs offer the same basic massage functions. But some offer pre-set massages like Swedish, Shiatsu, and Deep tissue. Each massage functions differently and helps your health. Swedish massages place importance on movements like kneading and gliding over your muscles, while shiatsu massages mimic acupressure and helps release tension in isolated areas of the body.
Heat Therapy
Therapeutic heat is ideal for the treatment of injuries as well as to loosen up the muscles in order to optimize the restorative effects of massage. Heating elements may be included for the upper back, lower back, or throughout the chair's contours.
Conclusion
Whether you are buying a massage chair for fun and relaxation or in order to provide medical and wellness benefits, you'll want to ensure that you have chosen the right product for your needs, budget, and lifestyle. When determining which is the best massage chair for you and your home, don't forget to take into consideration where you'll keep it and how you want it to look. In addition, think about whom else might benefit from a massage chair in your household and decide whether you would prefer to share or have your own. Now that you've thought everything through, purchase the chair of your choice, sit back, and relax!
Advertisement